Functions of Japan Transit Planner are available after paid login.
Japan Transit Plannerのこちらの機能は有料登録してご利用いただけます。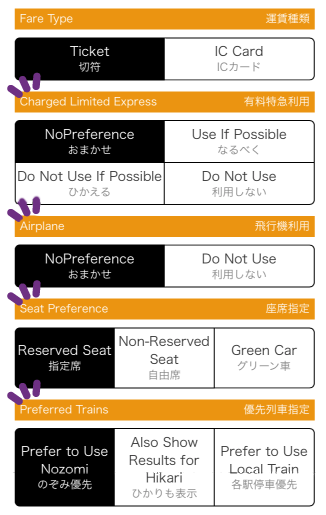 You can customize the search condition. Functions of Airplane, Prefer to Use Local Train and Preferred Trains are available.
検索時の条件設定でカスタマイズできます・「飛行機利用設定(Airplane)」・「各駅停車優先検索(Prefer to Use Local Train)」・「優先列車設定(Preferred Trains)」上記機能が使えます。
---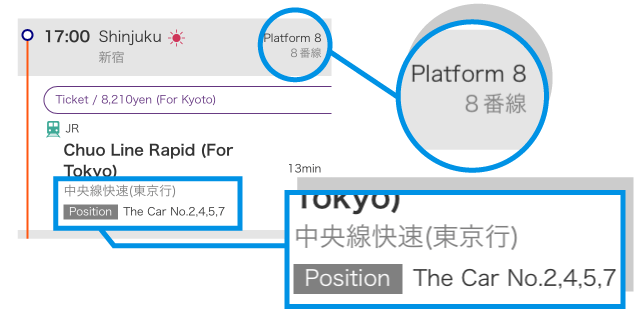 Information of boarding position and track number is available. Easy-to-understand information will be displayed in the search results for your transfer, making your travel smoother and more convenient!
乗車位置・発着ホーム番線がわかります。検索結果に乗換時に便利な情報を表示します。次の移動がスムーズになります。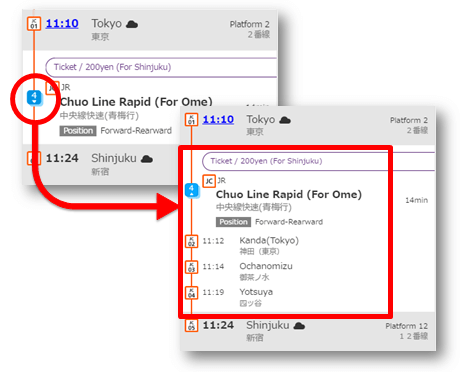 Timetable of way stations is available.
途中駅の時刻表がわかります。
---
Ticket purchase is required as an information fee to use The Service.
本サービスのご利用には、情報料としてチケット購入が必要となります。
| Purchase Ticket | (Tax Included) | 購入チケット | (税込) |
| --- | --- | --- | --- |
| Monthly Fare | 330 yen | 月額 | 330円 |
| 90 Days Ticket | 990 yen | 90日間 | 990円 |
| 365 Days Ticket | 3740 yen | 365日間 | 3740円 |